| | | |
| --- | --- | --- |
| tem No. | PSC-25 | PSC-31 |
| Max. external diameter (cm) | 25 | 31 |
| Material | Iron + Electrophoresis | Iron + Electrophoresis |
| N.W/G.W (kg) | 0.4 | 0.6 |
| Packing (cm) | 27*27*10 | 33*33*13 |
| MOQ(PCS) | 30 | 30 |
| FOB NINGBO (USD/pc) | 5.90 | 7.90 |
1–The delivery usually is within 10 working days after receiving TT deposit .
2– Payment term : 30% TT deposit, 70% balance before shipment
Propeller Safety Cage Features
Prevent entanglement of water plants.
Prevent stranded impact.
Avoid damage to the propeller blades when the propeller hits a rock.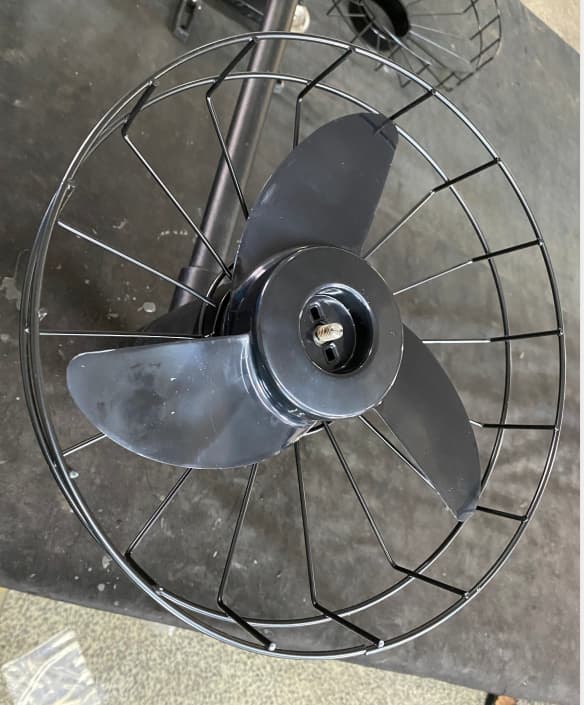 The advantages of our product : aluminum alloy motor head, fiber glass composite shaft.
1. Our motors use high-performance ferrite (the price is more than double that of other common materials in industry). Moreover, the rotors are all made of high-temperature pure copper wires produced by regular manufacturers to ensure stable performance and durable uses. Theses facts provide us with enough confidence to make the core component, the motor, a warranty period of two years.
2. We use durable aluminum die-casting motor head with external spray: high-strength epoxy resin outdoor plastic powder, which is resistant to acid, alkali and salt
3. In addition, an anode plate can be provided on the propeller, which can effectively prevent seawater from corroding the surface of the head, allowing our products more suitable for application in seawater.
4. The shaft is made of high-strength composite carbon-plastic material without surface treatment. It has the characteristics of light weight, good rigidity, sufficient toughness, acid resistance, alkali resistance and salt resistance, and is especially suitable for long-term use in seawater.
5. The large bracket adopts a new composite material, which has a bearing capacity of several tons, ensuring the safe use of the product and avoiding oxidation caused by long-term use. It has the characteristics of moisture resistance and alkali salt resistance.
6. A complete set of stainless steel accessories can be also provided on the bracket, which greatly improves the possibility of using the product in seawater.
7. All plastic parts of the our products are made of new environmentally friendly materials, which ensures a smooth and exquisite appearance with stable performance.
8. All switch contact slices/points are made of red copper with pure silver coating, which improves the conductivity and the passability. Imported high-grade anti-wear and arc-extinguishing grease are employed to ensure long-term use of the switch.
9. Based on 10 years of professional production and manufacturing experience, we have optimized and improved the product structure with humanized and intelligent characteristics, making it more suitable for professional or non-specialist use.